Rita Langeland - Founder/Executive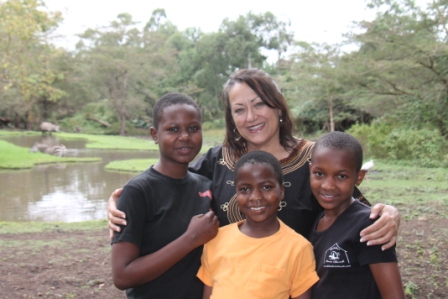 While ministering in Tanzania at a Pastor's Conference in February of 2003, Rita observed the needs of children affected by the AIDS epidemic evident all around. A desire to establish a place of safety, love and education for orphaned children began to grow in her heart. Repeated visits to the nation every six months over the next several years helped develop the vision of establishing an orphanage that would be a training center for future leaders of the nation. Passion for that vision prompted her to begin the lengthy process required to open the doors to the Treasures of Africa Children's Home in Moshi, Tanzania. After a great fight of faith, hard work and perseverance by both supporters and the TOA team, Rita was able to rejoice when TOA began receiving its first residents in March of 2007.
The vision to further expand Treasures of Africa Children's Home led to the purchase of a 5.4 acre plot of land outside of the town of Moshi and the development of architectural plans for the TREASURES OF AFRICA CHILDREN'S VILLAGE. Fundraising for the monies needed to build the 16 building compound which will be a showcase of using renewable energy sources through a hybrid system of SOLAR energy and Biogas is just now getting underway. The new Treasures of Africa Children's Village will be able to care for 120 children and provide two vocational Training Centers on the property.
Rita Langeland founded Hidden With Christ Ministries in 2000. Initially focused on Bible teaching over the radio through the broadcast of the program "Keys To Victorious Christian Living" HWCM expanded to teaching Christian Leadership Seminars on the African continent. A deep love for the people of Africa was born on her very first visit to the continent where she continues to teach in seminars and conferences.
She is the author of two books - "Bible Basics for Every Believer" and "ZABLON - The True Story of a Maasai Warrior." (available on www.amazon.com) She also hosts a daily podcast called "My Everyday Bible" - (www.myeverydaybible.com) which can be downloaded on to a smart phone by going to the APP STORE for your Android, APPLE or Windows Phone.
Married for more than 30 years to David Langeland, Pastor of Safe Harbor Church, she resides with her husband in Southern California. David and Rita have one son and a daughter in law who have blessed them with two beautiful granddaughters.