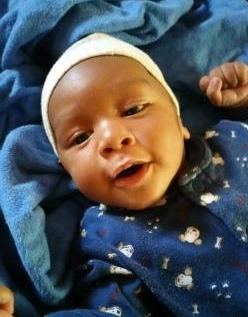 We can only imagine the anguish of a young mother in Africa who feels she cannot adequately care for her newborn son. Her desperation must have been overwhelming to do what she did on that day. Perhaps she was a single mother with no money and no extended family to help her. We don't know for sure. All we do know, is that she bravely carried her bundled child to a local church in Moshi, Tanzania and stood in a prayer line. After waiting for a while, as a visiting Bishop prayed for those who patiently stood in line, she asked a nearby woman if she would hold her baby for a moment. Then she disappeared, leaving a bag of baby clothes and her child, in the arms of a stranger.
We are grateful to that mother that she didn't leave him abandoned in a field or other place where he could have potentially been harmed. Instead, she brought him to a safe place. She must have loved him dearly to take the care to do that. So many others, have not. Church leaders turned the child over to the Welfare authorities who in turn called Treasures of Africa Children's Home. Our pediatrician estimated the child to be three months old. He came to live at Treasures on April 13, 2016.
Baby Baraka James (Baraka means "blessing" in Swahili) joined our six month old J.J. (John Joseph) in the "baby room" at Treasures of Africa. We trust that these two boys will grow into great playmates. What began as a sorrowful situation, has been turned into a blessing for little Baraka James. He has been warmly and lovingly welcomed at Treasures of Africa.
Like all of the children at Treasures, we are praying for a "Forever Family" for him. But until that family steps forward, we will surround Baraka with faith and love, believing God for a great future for him.